Choose the Eden that suits you
Starting from €24,000 
VAT included
EDEN is standardly available in a white finish that can be customized with thousands of combinations of colors and materials, thanks to the many matching fittings and accessories.
Thus, you can customize the basic model any way you want, with personalized bodywork color, seats, seat belts, tops and tarps, doors, hood straps, etc.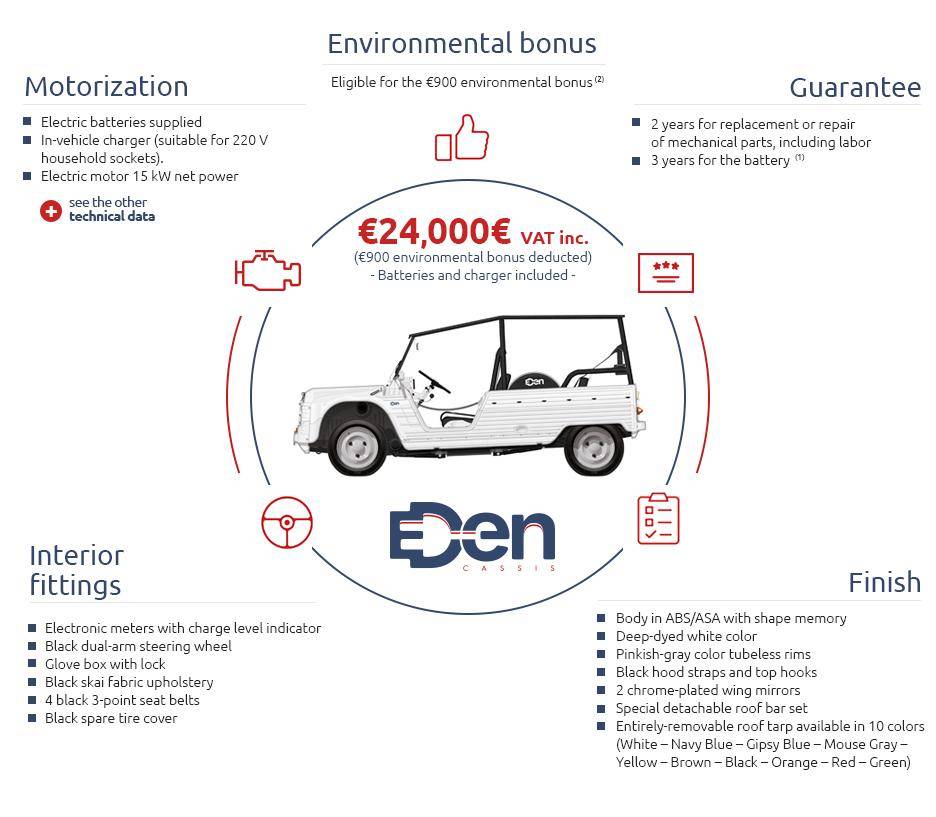 (1) Battery usage and charging must be compliant for the 3-year guarantee coverage:
Do not leave the vehicle battery fully discharged for more than 7 days.
Do not leave the vehicle and its electrical components exposed to freezing temperatures.
Do not leave the vehicle and its electrical components exposed to temperatures above 50°C.
Do not any kind of operation on any of the vehicle batteries, or on the 12V battery if it is a lithium model.
Information and recommendations:
During long-term parking, our batteries only lose 3% charge per month.
This means that the charge maintenance consumes very little power only (the battery management software stops or actuates vehicle charging automatically when necessary, which will be not more than 3% charging per month of a stationary vehicle).
After a long period of non-use with no charge maintenance, the calibration of the charge level gage may be inaccurate. Therefore, it will be necessary to do a full recharge to recalibrate it. Thus, we recommend maintaining the vehicle charged when in long-term storage (with very low power consumption), or else fully recharging the battery before putting the vehicle back on the road.
EDEN is in no danger of damage if caught out in a rain shower, because its charger is double-insulated.
(2) EDEN has been certificated (European directive 168/2013) as a private vehicle ("VP"), making it eligible for the €900 environmental bonus: and the conversion grant for this category of vehicle (€100 for taxable households, and €1,100 for non-taxable households). When registered as a utility vehicle ("VU 2 places"), EDEN qualifies for VAT recovery under the conditions laid down by law.