Key Advantages
Exceptional driving pleasure for driving with the wind in your hair
EDEN combines the unique sensation of driving a Méhari with the comfort of an electric motor, to give you a 100%-pleasure experience.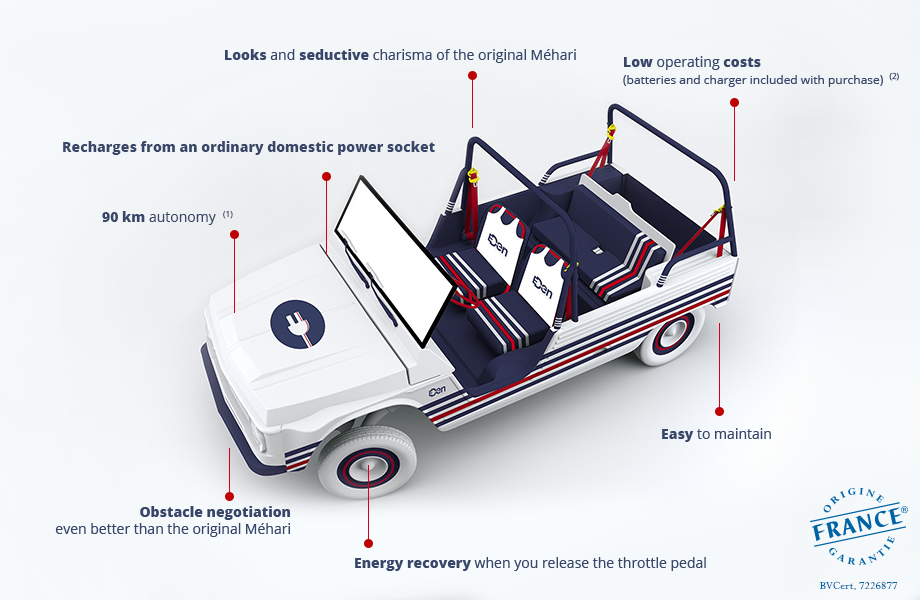 Enjoy the feeling of freedom
Eligible for the €900 environmental bonus (maximum in its category) when registered as a private vehicle, thanks to its ecologically-friendly technology; EDEN also gives you all the advantages of an electric vehicle:
Free-of-charge registration papers
Business vehicle tax exemption ("TVTS")
Free parking in many towns and cities
No traffic restrictions in any city or town center
EDEN has been approved (European directive 168/2013) as a private vehicle ("VP"), meaning it is eligible for the €900 bonus granted to this category of vehicles; but it is also approved as a utility vehicle ("VU 2 places"), meaning you can recover the VAT under the conditions laid down by law. A conversion grant can be awarded in addition to the environmental bonus. It amounts to €100 for taxable households, and €1,100 for non-taxable households. The total grant eligibility can thus be as high as €2,000 (€900 environmental bonus + €1,100 conversion grant).

(1) Actual autonomy of 90 km. Vehicle approved with an autonomy of 131 km (referent UNECE R40 test for all the vehicles of the L7e category). (2) Average annual saving of €1,200 on battery leasing contracts costing €100 per month, i.e. €6,000 after 5 years.