Prices
from €24,000 
VAT included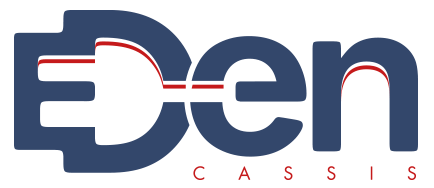 ---
24,000€ VAT inc.
(environmental bonus of €900 deducted (1))
– Batteries and charger included (2) –
Guarantee : 2 years for replacement or repair of
mechanical parts labor included
3 years for battery*
(*subject to compliance with the charging conditions)
Color and upholstery material of your choice (read more info)
Seat belt color of your choice (find out more)
Tip-down front right seat
Rear covers on front seats
Steering wheel and gear stick knob
Sea grass carpet
Trunk lid
Hood straps color of your choice (find out more)
Azure white wheel rims
Cover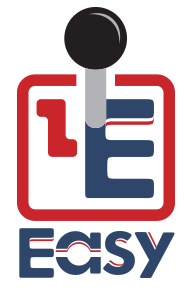 Choose the EASY automatic gearbox for optimal driving pleasure.
Like all vehicles with an automatic gearbox, the EDEN EASY doesn't have a clutch pedal. To stay faithful to EDEN's vintage spirit, the gear change lever has been conserved, but is only used to select forward or reverse on the vehicle.
For flexibility and to make the vehicle adaptable to every type of road, the EDEN EASY has two differential ratios that can be engaged manually (when the vehicle is at standstill):
one low ratio for crossing obstacles and difficult terrain;
one high ratio for normal use.
Paintwork in deep-dyed bodywork with scratch-protection and UV protection treatments (matte, satin or gloss finish, as per your choice).
6 color options: Tibesti Green – Montana Green – Atacama Yellow – Kyrgyz Orange – Hoggar Beige – Azur Pattern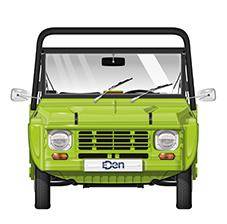 Vert Tibesti (Tibesti Green)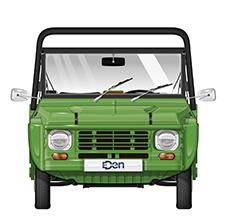 Vert Montana (Montana Green)



Jaune Atacama (Atacama Yellow)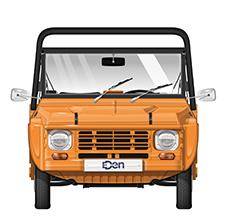 Orange Kirghiz (Kyrgyz Orange)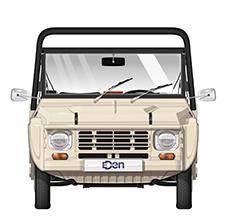 Beige Hoggar (Hoggar Beige)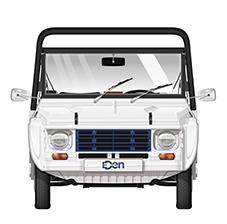 Modèle Azur (Azur Pattern)
Paintwork on bodywork with UV-protection treatment (matte, satin or gloss finish, as per your choice).
Custom color to order, with possibility of different grille and bodywork bottom color.

Special set of hood covers including fully-removable hood side panel and rear hood cover.
Removable doors in fabric material without lock.
Spare wheel cover matching hoods color.
10 colors available: White – Navy Blue – Gypsy Blue – Mouse Gray – Yellow – Brown – Black – Orange – Red – Green

Front and rear bumper set – small black model: €260 including VAT
Dual USB connectors on dashboard – location as per customer's choice.
(1) EDEN has been certificated (European directive 168/2013) as a private vehicle ("VP"), making it eligible for the €900 environmental bonus: and the conversion grant for this category of vehicle (€100 for taxable households, and €1,100 for non-taxable households). When registered as a utility vehicle ("VU 2 places"), EDEN qualifies for VAT recovery under the conditions laid down by law. (2) Average annual saving of €1,200 on battery leasing contracts costing €100 per month, i.e. €6,000 after 5 years.